Environment Control System
(Cooling Pads, Exhaust Fans, Foggers System, Environment Controller)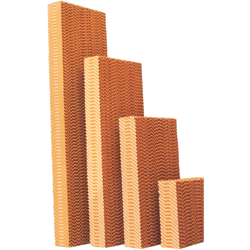 Description: Vijay Raj cooling pads are made of cellulose paper and are specially designed for the poultry houses to provide maximum cooling in the houses and reducing the temperature in the house and maintain a standard required temperature in the poultry house.
The cooling pad is tested and the effective saturation ranges from 60-98 and can be achived depending upon a velocity and depth of the cooling pad.
Description:
The fan translation had accredited Europe CE Certification.
Vijay Raj Exhaust fans are designed for greater airflow capacity with a reduction up to 30% in energy while retaining the current standard wall/mounting housing of the previous 50″ fan which has an enviable reputation for service and performance even under extreme weather conditions with large temperature fluctuations.
Air capacity:43070m3/h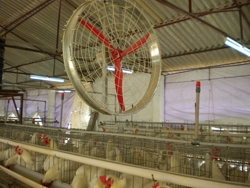 Description: Vijay Raj foggers system is best suitable for hot climates and are engineered for the best discharge of mist which evoprates and makes the poultry house have effective low temperature even in hot temperature.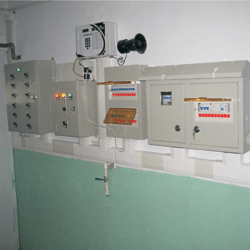 Description: Vijay Raj adoptes the latest designs of controller.The Environment controler is designed to control the following:
2.Automatic drinking water
8.Pickup of eggs automatically
11.Water pressure,water amount