Vijay – Raj Group was founded in 1972 by the founder Mr. Vijay Singh Bayas. The main dream behind the formation was to cater to the needs of the Indian poultry farmers. Started on a small scale when only backyard farming prevailed, today Vijay – Raj caters to international markets successfully completing Turnkey Projects. All this under the expert guidance of Mr. Vijay Singh Bayas with over 5 decades of expertise in welded mesh and poultry equipments.
The promoters of the organization bring in their skills in manufacturing world class products for the poultry. Farmers keeping upgraded with the latest technologies and needs of the farmers. We take pride in satisfying the farmer's need with superior quality products and services.Vijay Raj is also an approved supplier for major research institutes and poultry colleges.Our company offers practical, economical solutions to the farmers.
First company to introduce:
water channel design in poultry cages in 1980
Nipple drinker in poultry cages in 1984
Poultry Battery cages in 1998
Comfort cage model in 2001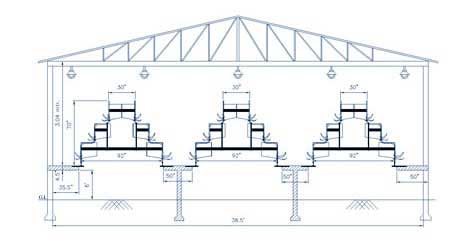 Research & Development (R&D)
Research & Development (R&D) is a continuous improvement process to enrich quality of the output at Vijay Raj. Vijay Raj Poultry Equipments firmly believes in this process and devotes significant effort towards R&D initiatives.
Vijay Raj Poultry Equipments R&D initiatives are driven by highly qualified and experienced poultry experts. These initiatives over time have helped establish Standard Operating Procedures (SOP) and Good Manufacturing Practice (GMP) which are strictly followed at our factory.
The Research & Development team at Vijay Raj focuses on the areas of environment,birds diet,disease management, egg breakages and development of the birds in our cages.
The Research & Development team at Vijay Raj is always looking at bringing efficiency through effective cages, water system, temperature system, passage area, feed hopper, egg and manure collection.Since birds, eggs, food and water are important factors the team constantly aims at continuous development of cage designs and dimension formulation to keep birds healthy.
By closely monitoring and reviewing bird performance, the team helps identify farmers quality output and support through innovative and practical solutions based on scientific poultry management. Through our activities to monitor the poultry units that include field trips by our support team and on-field support services to the farmers.
The proficiency of Vijay Raj Poultry Equipments R&D team can be seen in its active collaboration with leading companies in India.